Marc Urselli finds the right mix of ideas to keep an open mind in a closed world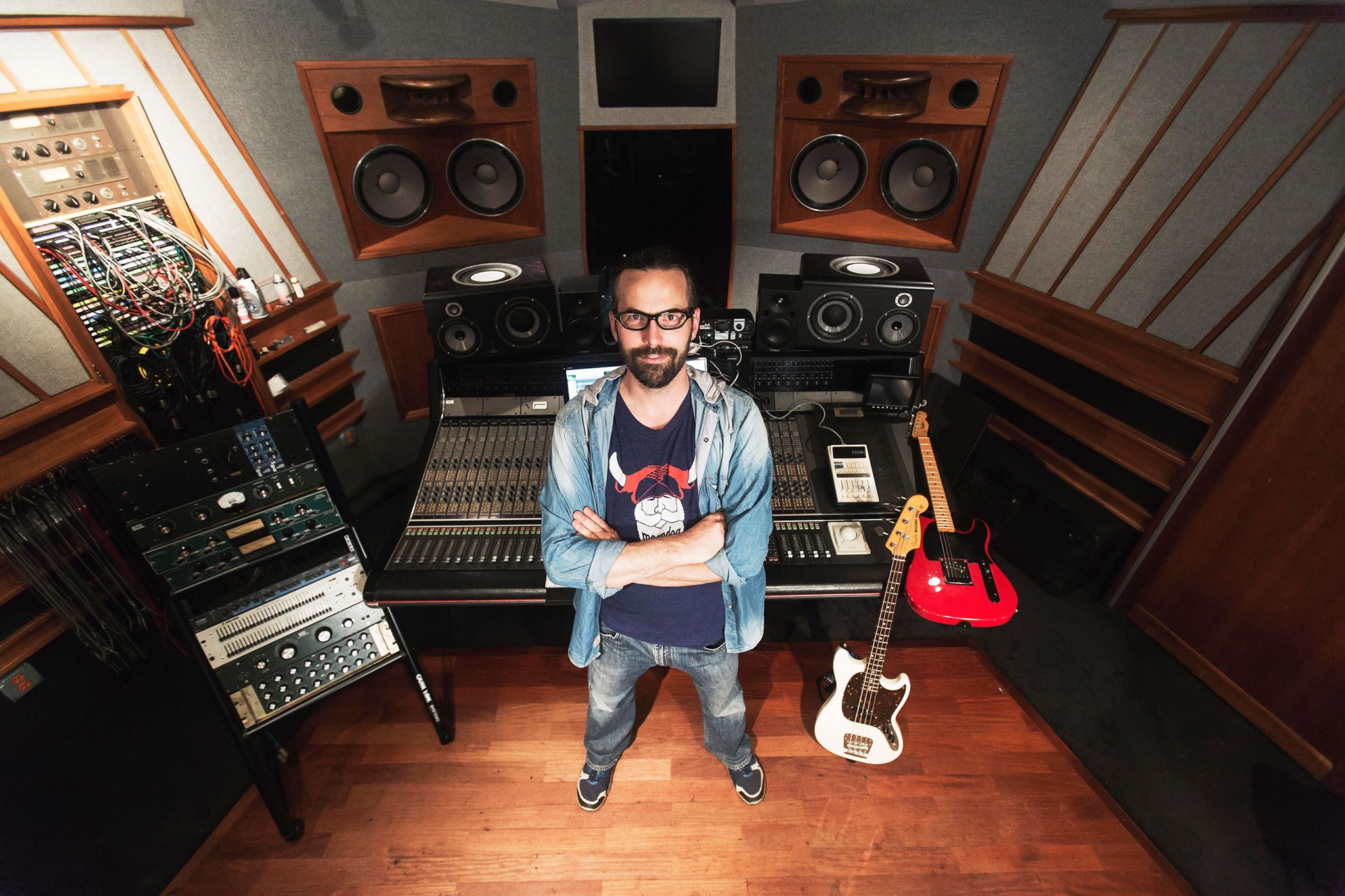 When evaluating the state of worldwide health means studying – in formal research labs – risk assessment for an activities as harmless as singing and playing of woodwind and brass instruments, that's how it becomes clear the problem at hand isn't an easy one to solve. If the domino-like shuttering of music venues and stoppage of musical activities wasn't shocking enough last year, much the same way the public isn't often led to consider every person involved in making their favorite band's album (a cultural commonality that's been now being chipped away at in the mainstream through efforts like the Recording Academy's new "Give Credit" Initiative), the rapid snowball effect of music going silent around the world eventually would come to bombard those same often overlooked folks who are cornerstones of how musical entertainment makes it onto stages and into countless shops and homes.
Now, as devastating an avalanche of adversity as this scenario is, those non-artist music professionals who came to be imminently affected, like New York City's own Marc Urselli – seven time-nominated and three time Grammy-winning audio engineer – didn't simply cave in and give up. The same creatively driven, innovative thinker/producer/sound designer who has engineered the likes of Terri Lyne Carrington & Social Science's Waiting Game, mixed Attaca Quartet / Brooklyn Youth Chorus, and done both for John Zorn's releases many times over since 2007, used the time of social separation to his advantage, contemplating and implementing ways to keep his ears active and keep his business going, which definitely wasn't easy to do when the news of lockdowns and social isolations first hit.
"So [over] the first seven days, back in March I'm talking, I was kind of glued to social media. [I was] a little bit, not depressed, but, you know, what's the word…not in a great mood of because of how things were looking," Urselli says.
When in-person studio sessions took a hiatus and live music went down for the year, many audio professionals would – entirely not of their own accord – find themselves holding an empty bin of to-do's. Urselli's determination and openness to the broader music community helped lessen this sting for himself. But furthermore, his course of action also worked to the benefit of many others in the music community – even well before the resumption of some degree of indoor work life across the globe.
"After about after about seven days on the couch, looking at social media and stuff, and decided I had to do something. I am a strong believer in community. And so I put away the phone and thought about how I can help the artists whose concerts were being canceled the recording sessions were being canceled. One thing that I thought of was to give away free mixing services. So I experimented with that and I started an online poll where people could enter their band or artist's name and get their fans to vote for it," Urselli says.
"I did it two times [for] the top three [bands]," he continues. "So I basically gave away six free mixes to artists. After that I wanted to continue being helpful so I created a small, short series of Instagram Live movies [each] 10 minutes long. They're still [live]. They can still be seen on my Instagram feed and Instagram TV. It was a seven part series on how to set up your own recording studio. My realization in this pandemic and in the lockdown everyone's going to start doing things from home, more so than [they were] before."
View this post on Instagram

Though Urselli wears the titular hat of Chief House Engineer for EastSide Sound, the Manhattan recording studio where he conducts a good deal of his professional business and which like so many other places suffered a temporary closure early in 2020, it helps a great deal that the fine print of Urselli's cumulative skill set gives him solidified aptitude in just about every engineering subset, including: recording, mixing, mastering, and live sound, as well as producing, composing, playing, and remixing. This versatility undeniably worked in Urselli's favor during early months of the pandemic.
"[EastSide Sound] reopened on July 1, 2020, after being shut from mid March [onward]," Urselli explains. "I basically restarted doing [recording] sessions in September. [But] before then, I was just focusing on mixing because, you know, it wasn't possible for the most part to do sessions. the studio has actually been pretty busy. In July, in August and all
Facing the ebb of some audio subsets, Urselli's move to embrace a more prioritized relationship with mixing, as well as making those skills more accessible to musicians already hurting for financial stability, turned out to be a symbiotic boon for himself and for artists still striving to complete their projects. Though seeming like a debilitating limiter at face value, the functional work shift spurred a renewed boost around Urselli's already long list esteemed projects, which will pleasantly remain long after the world has adjusted back to interactive life.
"I should mention that for me, mixing from home is not something I just started or pivoted to doing during the pandemic," he affirms.
"I've been mixing from home for, you know, over a decade. The reason I started doing that was because I realized, already 10 to 15 years ago, that a lot of smaller artists were just not able to afford the recording studios. And so I wanted to become proficient at mixing from home and now I am, at my whole system. I'm able to deliver high quality (audio) products of the same level that are being produced in the studio. I [also] lowered my mixing rates in order to help artists during these difficult times and I'm still doing that. I've slashed my mixing rates by 50% in order to be supportive of [more] artists."
All this being said, it would be disingenuous to claim that being an audio engineer in 2020 and early 2021 didn't, and-or hasn't, come with quite a few frustrations and logistical challenges.
"[EastSide does] cleaning before your session starts in the morning so that you know it's [safe.] Thankfully, [EastSide Sound also] has all these different ISO[lation] booths. In effect, it's the only studio in New York City where you can do a socially distanced and safe recording session where every musician can be in a separate room, separated by glass, and therefore, in a different air bubble," Urselli explains.
"It's all different, you know? Every room has its own air conditioning handle so it gets fresh air that's not shared with the other rooms. And so in a way, that kind of setup of the studio has really been an asset during COVID and it's allowing musicians to continue doing sessions in complete safety."
In addition to newly necessary sanitizing measures implemented for safety in the studio, the loss of daily exposure to new sounds, bands, and venues – a staple activity of Urselli's downtime and a way for him to stay abreast of new voices, styles, and sounds – was another unavoidable loss that conversely, has yet to fully recover the way EastSide has been able to. This change in particular wasn't and hasn't been taken in the smoothest or most loving stride.
"I was used to going to like, two to three concerts a night. And that was a huge adjustment to me," Urselli admits. "Taking away live music from my daily diet, so to speak, was a giant adjustment – one that I wasn't happy [about] at all, having to make."
Thankfully, through the ups and very severe downs that caught the music industry entirely off guard this past year, Urselli has found more resonance with how challenges have positively strengthened his craft, rather than dwelling on the disappointing perspective of restrictions he couldn't otherwise control anyway. Bearing this in mind, up-and-coming engineers or aspiring students in-progress might do well to consider Urselli's mentality in this regard, especially given that the difficulties of the pandemic were indiscriminate with regard to professional stature. After all, outside of his many accolades, Marc Urselli is a person who appreciates and misses music as it was, just as much as anyone else.
"I think the greatest advantage, if we can talk about an advantage of being a pandemic, is that you have all this time that you didn't have before, to do things that that can contribute to your education and understanding of things in your fields or, in general, really," Urselli says.
"So, I think it's a great opportunity to learn new things. It's a great opportunity to learn more about the things you care about. So if you are an aspiring audio engineer, you know, now is the time to watch those 1000s of YouTube videos, read those 1000s of articles that you've always put off because you were too busy living life. Now is the time to do all of that. And that's the greatest opportunity that staying at home, [being] unable to go out, or work, has afforded us."

---
Connect with Marc Urselli through his official website and these social media outlets:
Facebook
Twitter (@MarcUrselli)
Instagram
YouTube
East Side Sound Official Website
EastSide Sound Facebook