Florence + the Machine come way down to earth with "High as Hope"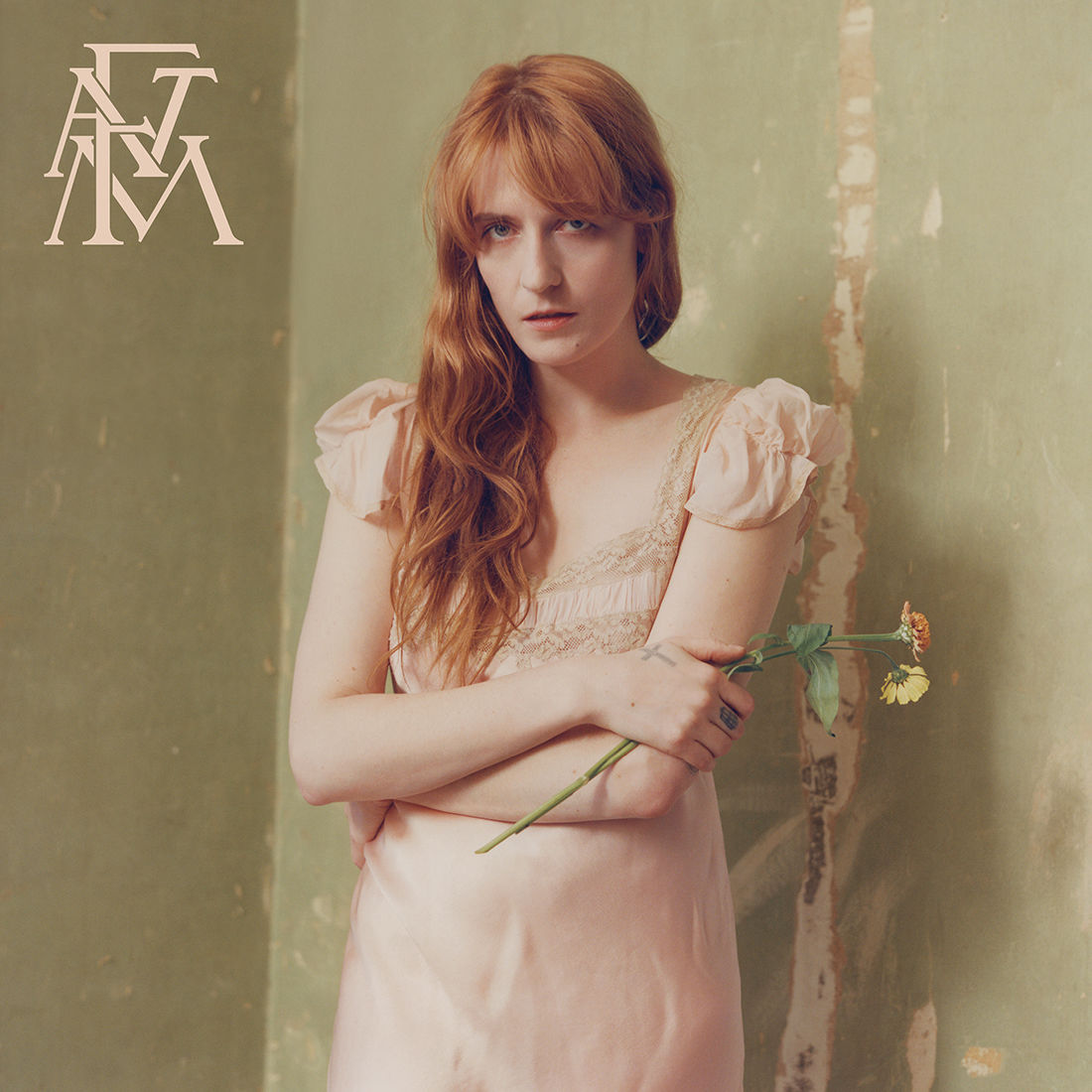 The time and tidbits leading up to the release of Florence and the Machine's newest album, High as Hope (Virgin/EMI, 2018), has yielded both excitement and a notable bit of quiet contemplation; despite the fact that Florence Welch's initial burst onto the mainstream scene back in 2009 was hardly what one would consider quietly contemplative. Just take a listen to the take-it-as-it-comes sonic presentation of debut album, Lungs (Island Records, 2009), followed by pretty much everything thereafter, and it becomes clear this artist and her band were not the kind to sit down and make their points reservedly – either in the way the music sounded or in the active-over-passive or direct-over-subtle, words Welch chose to frame her messages.
Nevertheless, now arriving at her 10 year milestone as the leader of this free-spirited machine, Welch set the tone for an album that, while remaining true to to the atypical sonic mosaic that has formed around an otherwise internationally renowned band over four albums and countless shows, feels the most surrendering and starkly re-imaginative of all the band's previous work. The word "surrendering" of course, is not meant as a term of selling out or giving up on striving for new ideas. Here, it's meant to convey that through High as Hope, Welch has chosen to show not only what a decade of refined musical experience has given to her but, also what the core of her artistry sounds like, after a fundamental shift in perspective reveals itself.
Watching simply as a fan base from afar, listeners know Welch has experienced plenty of trials – both external and internal. However beyond taking some opportunities to further disclose personal tribulations to the world through songs like lead single, "Hunger," High as Hope displays an embrace of the idea that music can be for sheer joy. Furthermore, even though it can help heal, music doesn't help one run away from or cover up cardinal pieces of one's character any more than other, often inherently negative, vices might seem to be able to do. Sure, by listening to the record, anyone present will get to hear and know the information and the stories Welch shares but beyond the formation of a song with a beginning, middle, and end, there is much more that makes up the album, which demonstrates emotional and artistic refreshment.
Simply from a sonic design perspective, seeing that long time engineer Ben Ralston (Ceremonials, How Big, How Blue, How Beautiful) left the helm of the control room in favor of Tom Elmhirst (Izzy Bizu, James Bay, Lorde) and hip-hop leaning producer Emile Haynie (Bruno Mars, Linkin Park, Eminem) this time around, right away there's a sign of interest in sonic exploration, even if the end result still harbors ties to Welch's proudly human performance aesthetic. The aural grandiosity of and conceptual vastness of How Big, How Blue, How Beautiful and Ceremonials seem to have callbacks throughout High as  Hope, as the presence of things like synthesizers in the form of musical box tones lay bits of less organic sparkle on tracks like the bookends of "June" and "No Choir." Meanwhile, idol confessional, "Patricia," and the emotionally metaphorical single, "Big God," are respectively led forward by rhythmic momentum, syllabic vocals, and freely ringing horns that all sit snugly in the style of tracks like "How Big, How Blue, How, Beautiful," "What Kind of Man," and "Ship to Wreck." Still, High as Hope is its own animal, with a definitive theme of deep introspection and personal release, which plays out from front to back and is clearly setup with the open admissions of instability on "June," that recur and are confronted in various forms over the 10 tracks.
And you were broken-hearted and the world was too
And I was beginning to lose my grip
And I have always held it loosely
But this time I admit
I felt it really start to slip
– Lyrics from "June"

Listen closely enough to the lyrics and there are moments bridges appear to be forged between their stories. Jumping right from "June" to "Sky Full of Song," listeners get a sense of the resolve Welch gradually takes up from the album's tumultuous beginning:
And you're so high, you're so high, you had to be an angel
And I'm so high, I'm so high, I can see an angel
– Lyrics from "June"
Grab me by my ankles, I've been flying for too long

I couldn't hide from the thunder in a sky full of song

And I want you so badly, but you could be anyone

I couldn't hide from the thunder in a sky full of song
– Lyrics from "Sky Full of Song"

Past more surface-observable ties like thematic lyrics, and past the foundational idea that Welch is opening up more to her audiences, High as Hope presents like a diary, through and through – to the point that even if no one else ever heard the culmination of High as Hope, there would still be meaningful processing of life experiences and complicated beliefs for Welch herself and possibly those about whom some of these track speak (e.g. "Grace," the eponymous ode to Welch's older sister). The imperfection of human performance has always been a factor of Florence and the Machine's sound but there's an even deeper take on it heard in the unadorned, extremely up-close vocals on songs like "No Choir" and "South London Forever," as well as the delicate, almost hazardous backing choral vocals on penultimate, "The End of Love."
The latter unveils a form of musical closeness but rather than bring artist and listener together, dynamically louder vocals almost sound mixed too hot. It's as if Elmhirst opted to focus on the upper end of the vocal register and heavily high pass and-or compress it all; almost to the point of clipping quality. (This could be also be said for parts like the piano introduction of "Grace" and the strings on "Patricia.") Such choices, but particularly shrinking the sound stage for a singer with larger-than-life energy like Welch, gives the most direct impression of intimacy, embodied by way of the mixing board. Overall, the voices we hear across the album are less about continuously belting to Welch's individual ceiling and more about restraint and control, while still maintaining melodic confidence. (Side note: her vocal skills have drastically improved over the show of the four albums in continuous play and letting herself be her in these kinds of ways shows Welch and the people around her likely know it too.)
Oddly enough, despite emphasizing a direction of positivity and love for this album, neither the sense of tonal resolution, nor the acme of positive potential shown in mentioning the album's titular phrase on "100 Years," are what serve as the album's closing destination. What listeners are given instead is a brief track just under two and a half minutes that ends up being the most telling of the bunch. "No Choir" is a wholesome summation of the record's objective of not making High as Hope about walling Welch off from her problems or the senses of emptiness that led to her addictions and inclinations of self-loathing. The way Welch then further illuminates this point beyond the song's lyrics with a partially a capella but still vocally exposed song, is brilliant. First casual play-throughs might makes this relatively subdued track feel confusing as a finishing point. Yet, knowing that High as Hope is about uplifting change in Welch's life, as well as shifting the very nature of her existing relationship with music itself, and suddenly the decision to close with a quieter moment of melodic singing rather than a compositionally intricate, sonically diverse, and-or dynamically explosive resolution, makes all the sense in the world in so far as how to choose to depart from this record and be the most mindful of this significant change.
Florence and the Machine has had a massive makeover but it's not the Hollywood movie rom-com climax kind. It's all about Welch's experiences – good and bad – clicking with a new, healthier, sense of self and what comes of such blending is the crux of High as Hope. It's the art and originality of Florence and the Machine mixed with the evolution of the heart of Florence Welch, the young, adventurous woman from South London.
---
High as Hope is out today via Virgin EMI.
Get it now through Amazon, iTunes, and the band's official store.
Stream the album through Spotify.
Follow along with Florence and the Machine through its official website and these social media platforms:
Facebook
Twitter (@flo_tweets)

Instagram

YouTube

Spotify