Jess Ingui intends to inspire with some sincerely soulful music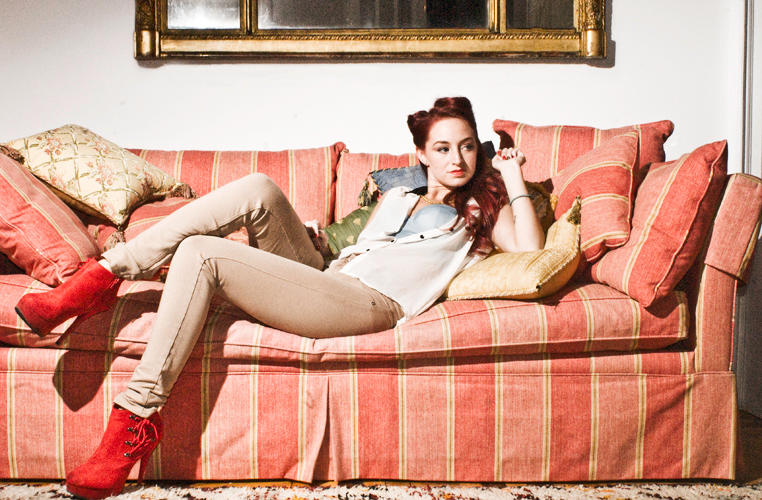 The idea of a genre-less music industry is a well-worn concept and topic of discussion here in 2015. Artists are pairing instruments that were previously designated to one or two styles alone, bands are dropping in feature spots on tracks like names get dropped on the red carpet of any award show and, listeners are finding their digital libraries full of more and more interchangeable metadata labels than ever before.
Some of these developments are being consciously made to occur in the business but others are just organic and happen to have fallen right in the lap of a time when the word of the moment is "blend." Where the natural side of this transition comes through, is in artists whose very selves – their voices, performing mannerisms and emotional demeanors – lean to, and almost appear to directly channel, an amalgam of styles –and do so with an innate ease.
---

Jess Ingui is one of those individuals whose voice alone could be genuinely shaped and placed among many complementary styles – an observation not lost on the ambitious 22 year old New Yorker – who feels most at home surrounded by the ingredients of jazz, soul, R&B and classic pop; though a delicate veneer of folk's straightforward relationship with melody (and love of the acoustic (electric) guitar) isn't without a cameo or two in Ingui's current body of work.
Contrary to potential implications from the digits of her age, Ingui has a feisty drive that has taken on tangible form through the diverse array tracks she has performed and released to the world –from American Songbook standards, to original work, well received by fans and reputable veterans of the industry.
When listening to the six tracks that make up the singer's current EP, the aforementioned stylistic fluidity becomes overt and undeniable as, with each song's new instrumental arrangements, Ingui's singing never comes across as "an X-style singer uncomfortably choosing to do Y-style." Her vocal timbre simply projects a multifaceted character that can settle in with whatever orchestration sits around it. Relating Ingui and her songs to commonly recognized cohorts, strands of contemporaries like Daphne Willis, Alicia Keys, Norah Jones and Amy Lynn and the Gunshow, as well as timeless predecessors like Etta James each peek through in oscillating waves; whether via band composition, vocal/emotive delivery, playing style, lyrical focus or all combined.
Presently at the precipice of a need for evolution, Ingui just recently launched a Kickstarter campaign to make the still-so-crucial step of a full length album, a quality reality. A key aspect of Ingui's motive behind making this record is the layer of selflessness that comes along with this album of her original compositions. More important than solely placing herself in front of others for the singular sake of being seen and heard, Ingui is hoping to give as well, with an album to foster an equal amount of creative and motivated drive among those who listen to her music, in hopes that they pursue their respective passions and means of individual expression as well.
---
Jess Ingui's Kickstarter campaign can be found here and backers can receive an assortment of perks –from a signed photograph, to personalized paintings and even a private concert, among many other offerings.
Below is the official video for the single, "Fix This."
Efforts to promote the campaign are being bolstered through an upcoming live show on 19 February 2015, at 89 North Music Venue in Patchogue, NY. Supporting sets will include fellow soul, jazz and pop artists, Leah Laurenti and Cora Small. Full event details are below.
89 North Music Venue is located at
89 North Ocean Avenue
Patchogue, NY 11772
Friday, 19 February 2015
Doors: 7:00PM
$10.00 Cover
18+
---
Keep up with Jess Ingui's progress and hear her music through her official website and these social media outlets:
Facebook
Twitter (@JessIngui)
Instagram
SoundCloud
YouTube