CBGB is Coming Back. Am I Being Punk'd?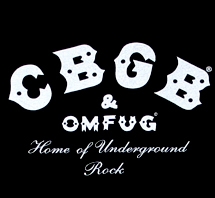 No,ladies and gentlemen, you are not being Punk'd but you may want to start telling your friends all your old stories of how you 'punked out' during all those concerts at CBGB back in the day.
What? You don't have any stories from back in the day because you're too young and CBGB was just something you learned about in music history class? (Although, perhaps "Rock History" would probably find the topic more relevant as lecture discussion material.) The days of talking about the iconic New York City venue as just a famous thing from the past are now over. Well, the days will be over; in a couple of months anyway.
A nicely written announcement article put together by two journalists from the NY Times and describes the plans envisioned by the apparently half a dozen investors who have teamed up to purchase the rights for CBGB from its current holder, Lisa Kristal Bergman, the daughter of CBGB's original owner and founder, Hilly Kristal. A venue steeped in band memorabilia and Punk and New Wave band legacies from the 70s up through 2006 when the doors closed, supposedly for good, it's intriguing to think about what these new investors will do to honor and continue Hilly Kristal's work.
In striking a deal with Ms. Bergman for the purchase, Tim Hayes, (one of the openly named investors,) spoke with the utmost confidence in regards to upholding the traditions behind what CBGB did for bands in the city during its heyday. Ms. Bergman's primary condition and cause for reluctance was attached to "her father's policy of supporting original, undiscovered musicians." (Cit. NY Times)
Here's the thing though, as this might seem too good to be true and you might be waiting for the other shoes to drop: CBGB the venue, at 315 Bowery at Bleecker in Manhattan, is not what Mr. Hayes and the other five investors are reviving -at least not yet anyway. The main reason for celebration (or discomfort, if you're feeling skeptical,) right now, is the revival of CBGB in music festival form.
Some of the lineup was revealed today for this four day musical affair of fun, fans and, as Mr. Hayes puts it, "making lots of noise [while] being part of New York City." The entire performance portion of the festival will goes as follows, as disclosed by the NY Times:
"begin[ing] on July 5, [the festival] will showcase about 300 rock bands. Concerts will take place at around 30 places, from large stages like Central Park Summerstage and Webster Hall to small clubs like the Trash Bar in Williamsburg and the Living Room on the Lower East Side."
Rockers both new and mature will be featured and make appearances during the festival but the support of up-in-coming talent is at the forefront of Mr. Hayes & Co.'s priorities. At some, yet to be decided point in the future, the investor group states a desire to reopen CBGB in a different place within the Lower Manhattan area. Taking cues from the unfortunate series of events that led to the shut down of the club in the first place, the objective this time around would be a full site purchase, rather than a rent/tenant/landlord arrangement. Currently, the investors have no collective debt to creditors or to Ms. Bergman, as they "bought the club's assets for cash." (Exact figures are currently kept hush-hush but certainly think of a multi-million dollar figure and go from there with your own imaginations.)
What has me wondering and contemplating with this story at the moment, goes back to Ms. Berman's condition of original integrity to Mr. Hayes and the other investors for booked artists. One would think, that with something as memorable as CBGB, that if we could see into the future and know that awesome shows were on the way, with the original feel and audience energy of Kristal's CBGB, then that would be a strong showing of the investors' abilities to live up to historical expectation and that would align with original integrity, right? I mean, if you can keep up with the guy who made the place what it was, then you must be doing something right, right?
However, consider for a moment, the broad interpretations liable to ensue from a short description of "supporting original and undiscovered artists." If the aim is to align with Hilly Kristal's visions, then that doesn't necessarily mean that CBGB would have to mirror its old self to a tee. Example? Well, as I referred to above, CBGB has intense associations with the Punk and New Wave scene. (Richard Manitoba, lead singer of punk band The Dictators, had commented with disagreeing but respectful views about the possible re-opening of the CBGB venue in the NYT piece.)
However, with the name of the venue/brand actually meant to stand for Country, Bluegrass and Blues, and the initial intention being to focus on acts under said three genres, if an Alison Krauss-influenced bluegrass band, or an unsigned blues act in the same vein as Grace Potter & the Nocturnals were in line to be booked at the reopened CBGB, would there be justification for any disappointment (and accompanying lack of attendance) that might resonate with potential customers who are more intent on seeing shows sounding more like Youth of Today, The Beastie Boys, The Ramones and the Talking Heads? After all, groups like these had some serious performances at the club in previous years and there are fans that still talk about them -as many fans do when a concert is just that good or memorable. There would still be connection to the original vision for CBGB -perhaps the one that tends to get overlooked in favor of the other "as long as you're relatively unknown, you fit the bill" philosophy. If Hayes & Co. brought more life to the genres in CBGB's namesake with their revival, that could be a respectful way to reinvigorate the club and make it more their own, without distorting what it stands for. (In that case, quite literally.)
So I ask this: What would be more important to you, now knowing that CBGB could come back to being a hotspot for NYC live music? Would it be:
Refocusing the legacy in a literal sense, which would bring new life to the club without simply being a cultural reboot? (alongside other types of underground acts of course)
or,
Staying true to the popularly established legacy of what people know and remember when they think of the sights and sounds blazing behind CBGB's doors and not putting a shake on the audiences sub-cultures that became almost as iconic as the club itself?